Previous pages from July 27 to 29, 2022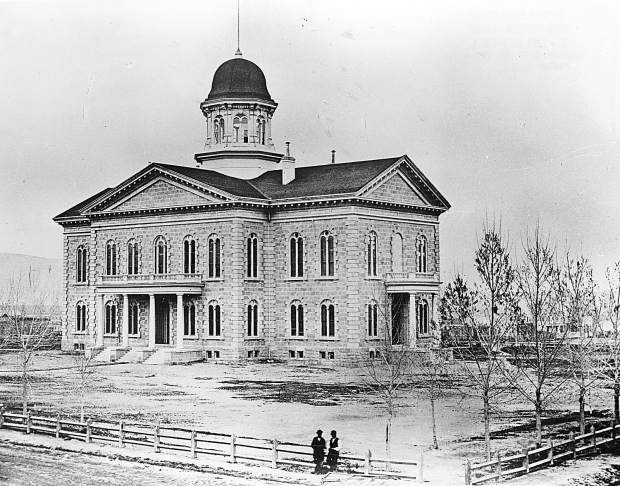 Wednesday
150 years ago
The painting: The painters are a flourishing activity, and one notices many budding private dwellings, as new after having undergone the stroke of the brush.
140 years ago
Fish Dying at Lake: Campers and townspeople who fished Donner Lake said the chub are dying again and washed up on shore. Trout also die, but they sink. This beautiful seaside resort will become depopulated if it continues.
120 years ago
Jumping this way: As Sheriff McCormack and Hans Jepsen prospected on the summit at the head of James Canyon, they ran into half a mile long and a thousand locusts – heading for Jacks and Carson Valley.
100 years ago
License plates, color change: With motor vehicle registrations topping last year's by 1,500, the 15,000 mark is likely to be reached in 1923, according to Secretary of State Brodigan. The colors for next year are yellow letters on a black background.
70 years ago
Photo caption: Teaming up to fight cancer Fred EL Ginzaton, Director of Stanford University's Microwave Laboratory and Dr. Henry S. Kaplan, Head of the Department of Radiology have developed a linear accelerator d 'six million volt electrons to shoot X-rays deep into cancerous tissue. The rays will penetrate healthy tissue without injury.
30 years ago
Go Bananas: A Disney Movie will be screened at the Carson City Community Center. This week's movie, "Herbie Goes Bananas." – Cost $1 for children and adults.
Thursday
150 years ago
A New Rig: Col. A. Curry hit the streets with a new rig in common parlance called a "buckboard." The thing has a heavy strap attached to the vehicle's board or bed and whether it's for a legitimate vocation or a cleverly designed underground railroad machine, we're at a loss to decide.
140 years ago
A healthy climate: Eight patients from the Reno Insane Asylum have been released by Dr. Dawson. If our insane continues to improve at this rate, we won't need an insane asylum in Reno.
120 years ago
A vacation spot for bums: The small South Pacific Park near the Reno depot is a pretty spot, but it's become a hangout for bums, who flock there as thick as cheese skippers.
100 years ago
Pioneer Day Films: CA Ambrose has returned from the Bay Area where he showed his film about pioneer days in that state. The film now takes the form of a continuous story.
70 years ago
Advertisement: "Carson Theatre—Oscar Winner—Humphrey Bogart and Katherine Hepburn, 'The African Queen.' In breathtaking technicolor filmed in the wild nature of the Belgian Congo.
30 years ago
Books! Books! "The Backyard Traveller" by Richard Moreno, published by the Carson City Children's Museum, is not just about keno. It details 54 outings in northern Nevada – historic homes, the silver and gold mines of the Comstock Lode and the wild horses of the Palomino Valley…
Friday
150 years ago
A Good Harvest: The wheat field that grows inside the compound of the orphan's house presents a beautiful appearance. When considering that the growth is a spontaneous cultivation, it becomes more remarkable. It will yield almost double per acre, and Mr. Webb, the superintendent, estimates that there will be enough wheat harvested to provide flour for the orphan's house for eight months.
140 years ago
Fire on the Lake: A disastrous accident happened to the photographer, Mr. Wood, at Lake Tahoe. He was crossing the lake and had his boat attached to the steamer Governor Stanford. Sparks from the steamer set his boat on fire, destroying the camera and a number of views. The loss is $400.
120 years ago
Como at the front: A saloon was opened in the camp and the receipts for the first night were $80. A boarding house was erected at Como-Eureka and a number of men were put to work at the mine.
100 years ago
Advertisement: "Lumber, Coal and Power Park. When you want coal that burns and leaves no slag. Phone 1511. We'll meet your desires. John Rubkf, Carson, Nevada.
70 years ago
Advertisement: "Little League Baseball – Reds vs. Blues, 7:30 a.m. HS field, No Admission – Broderick's Bar, 507 N. Carson."
30 years ago
Nuclear Waste: Citizens Against Nuclear Waste in Nevada begins its membership drive in Carson City and will have a public information booth in the Home Arts building at the fair.
Sue Ballew is the daughter of Bill Dolan, who wrote this column for the Nevada Appeal from 1947 until his death in 2006.