Previous pages from July 2 to 5, 2022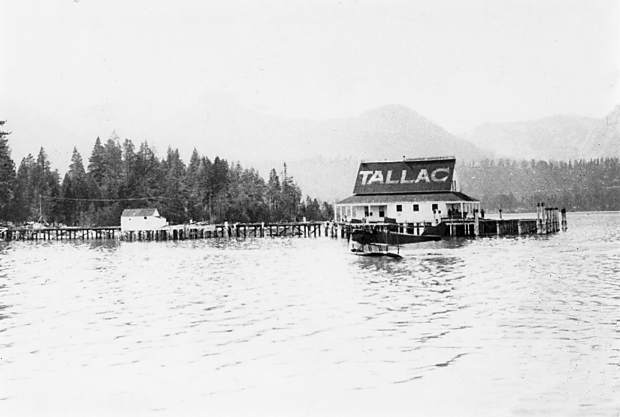 Photo provided Tallac pier is advertised in this historic undated photo.
Saturday
145 years ago
Day trip (continuation of the day before). This tunnel is seven feet wide at the bottom, five feet at the top, and six and a half feet high. A considerable part of the path is heavily wooded. The solid granite which it traverses for a considerable distance does not seem to require this precaution. During its construction, a railway track about eighteen inches wide was laid on which cars are pulled by mules. The distance from the tunnel is about one mile. For more on this article, see the June 28, 1877 edition of Morning Appeal.
140 years ago
There has been no scandal, no crime made public in Genoa for almost a week. What is the problem? Has a reform taken place?
120 years ago
Greeks on strike. Two hundred Greek workers at the Southern Pacific Company's rock crusher and quarry in Cisco, Calif., went on strike last week. They were demanding a raise or a ride to San Francisco. To enforce their demands, they armed themselves and took up positions on the side of the hill and around the rock crusher and did not allow anyone to resume work.
80 years ago
A doe that tried to cross Clear Creek Road in front of Earl Liard's car around 11pm last night was killed instantly. The event was reported to Sheriff Harold Brooks, who arranged for the use of venison at the county hospital.
40 years ago
Photo caption. Although not on the official endangered species list, traffic signs without a single bullet hole are extremely rare along secondary roads. This victim is trying to get her message across at the intersection of Deer Run Road and Brunswick Canyon Road.
30 years ago
Agnes Heeter just doesn't understand what this is about. After another 99 birthdays, Agnes shows little enthusiasm for number 100, but other people are very excited.
Sunday
150 years ago
Railroad to Washoe: The first locomotive arrived in Washoe City. Jule Holmes, the works manager's daughter, designed the train for the city. Mrs. WL Knox was the first passenger to enter Washoe City by steamship.
140 years ago
Insane Nevada patients from Dr. Clark's private asylum in Stockton were moved to new wards in Reno. The move was done happily and successfully. There were 148 patients in all. Among the great crowd of unfortunates were all phases of mental illness – maniac, fool and imaginary hero.
130 years ago
On July 4, the whole city will be a brilliant field of red, white and blue.
120 years ago
An Independence Day poem by Anne Martin:
A tax on the goods he sent us over the sea;
A tax on paper; a tax on good tea;
Until the people, tired of this strain
Have declared themselves an independent train…
Long live our land! May freedom from his throne
Bless all the land we proudly call ours,
No dark future clouds in the years to come,
But the unmixed sunlight soothes our fears.
100 years ago
Death of a pioneer: J. Browne, pioneer of the early west, died at home after a stroke. He was driving, but he got sick and weakened until he had a stroke. He was born in Massachusetts and left home at nineteen to reach Nevada in 1862. His wife, formerly Janet Van Sickle of Carson Valley, survived.
70 years ago
Advertisement: "The Carson Theatre, one of the greatest movies of all time. Walt Disney's 'Snow White and the Seven Dwarfs' in Technicolor. Cartoon and 'The Naughty Twenties'.
30 years ago
Highest Emmy ratings for the week: 1. "Emmy Awards", NBC. 2. "60 Minutes," CBS. 3. "Rosanne", ABC. 4. "Home improvement", ABC. 5. "Mother's Sins", CBS…
Monday
150 years ago
Refreshing Drinks: OP Willis' marble soda fountain should be busy today. Ice cream sodas, lemon, strawberry and raspberry sodas can be had, ice cold, at just a glass – each glass being as big as a bucket of water.
140 years ago
All Kinds: Hank Monk came back from the lake, and to everyone's surprise, didn't say a single fish wire.
130 years ago
Bay Visitors: Visitors to San Francisco say Carson is the prettiest town of its size and population on the Pacific Coast.
100 years ago
Announcement: "Unfurnished four-room house; many outbuildings. Suitable for chicken ranch; 4 acres of land; located on Jail Road one mile from Carson City; low rent possible by responding to this ad. Sandberg & Co. Inc., Reno, Nevada, phone 546."
70 years ago
Moonlight Ride: Members of the Kit Carson Equestrian Club will ride to Borda Spring in King's Canyon for a sausage roast. Good turnout is expected as this will be the last organized hike until the annual Monte Rosa trip in mid-July.
30 years ago
Property Tax Rebates for Seniors: Tax rebates for eligible seniors will be reduced by 25% beginning July 1 due to an unprecedented and unexpected increase in applications for the program.
Tuesday
150 years ago
Wanted canvas: The boys of the Orphan's house have set up a circus. Their amusement is excellent, being conducive to health and the development of their muscular powers.
140 years ago
All Kinds: Dan Dobbs, son of Mint's George R. Dobbs, shot himself in the left hand with a cartridge pistol on July 4. The young man suffers a lot from his injury.
130 years ago
All kinds: "traffic flags" above the post office indicate warmer weather.
100 years ago
Nevada Historical Society: A rare scrapbook containing an original photograph of Abraham Lincoln and his family was presented to the Nevada Historical Society and is now on display at the association's museum on Virginia Street. It also contains many photographs of Nevada pioneers. The album was presented to the Society by William F. Boyle of Virginia City, who received it from a French lady who was at one time a maid in Lincoln's service.
70 years ago
Meteor Falls: A flying, fiery object was seen in the sky over parts of northern Utah, northern Nevada, Idaho and eastern Oregon. Some pilots insisted it was a meteorite that fell, starting a forest fire, near the Utah-Nevada border.
30 years ago
Advertisement: "Gold Hill favourite, Cabin in the Sky; on the menu, a 32 oz. Prime Rib Special; Friday and Saturday Rock 'n Roll from the 50s and 60s. Cabin in the sky… A fun place.
Sue Ballew is the daughter of Bill Dolan, who wrote this column for the Nevada Appeal from 1947 until his death in 2006.