Previous pages from April 23 to 26, 2022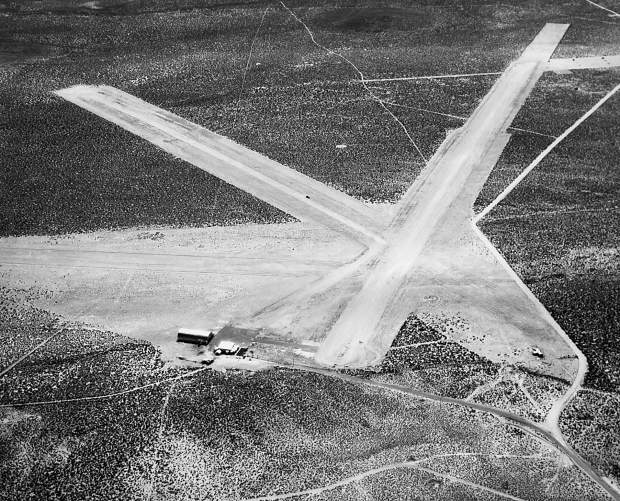 Looking east at Carson City Airport in 1960.
Saturday
145 years ago
With singular stubbornness, the local madman of the Virginia Chronicle persists in advertising a lost sea foam. Reviews are widely varied and show no average struggle of imaginative facilities. The last form is to allude to this messy fantasy pipe as "about the size of a chicken's egg held in an intricately carved hand". It's a strange hallucination.
140 years ago
Yesterday's storm was as violent, if not more, than any we have experienced during this exceptionally harsh winter. At noon, the wind was blowing at 50 km/h and it was difficult for pedestrians to propel themselves through the streets without being knocked down. A Chinaman walking along the street in front of the Ormsby house was blown down the street, and he was without a doubt the scariest Mongol ever seen around.
120 years ago
A thrilling escape. One of Bennett's six-horse crews employed to haul ore from the Silver Mill mine to the Nevada reduction works at Dayton got away yesterday. They hauled the big cart down a ravine, demolishing it. The herdsman was thrown from his high seat among the horses' hooves but miraculously escaped serious injury. None of the horses were injured.
80 years ago
An interim plan for the screening of Japanese, foreign or American-born people sent to Nevada from evacuation-stricken California in the future was announced by Governor EP Carville. The governor stressed that no word of Japanese movement has been announced in Nevada, but he intends to be ready.
40 years ago
The challenge for future business leaders is to turn technology into new products and services in a rapidly changing world, Attorney General Richard Bryan said Wednesday.
20 years ago
Play Ironwood Stadium Cinema in Minden, The Scorpion Kink, Murder by Number, The Sweetest Thing, Changing Lanes, Frailty, High Crimes and Clockstoppers.
Sunday
145 years ago
Spelling Match — This evening, at the theater, a great etymological contest between the ladies and gentlemen of Carson will be given for the benefit of the Presbyterian Choir. The main professional gentlemen against schoolteachers and other ladies.
140 years ago
Gone to Wyoming. Lieutenant Governor Adams left for Wyoming last night to tend to his cattle herds that roam many of the hills in the territory. He will be away for several weeks.
120 years ago
The town of Wedekind is now lit with electricity. The same power is used to run and pump machinery in mines.
80 years ago
About 16,000 male Nevada residents will be registered April 27 for classification based on their skills and abilities for war production work, estimates Jay H. White, state director of Selective Service.
40 years ago
Cloud's Cal-Neva Lodge in Incline Village has been hit with the largest Nevada casino fine ever for tampering with slot machines. The casino was ordered to pay $325,000 plus investigation costs.
20 years ago
More than 60 physicians applied for insurance coverage with the new Nevada Medical Liability Association during the association's first week of operation.
Tuesday
145 years ago
We don't know if any progress has been made in establishing a savings bank in Carson, but we do know that the ground for such an invitation is inviting.
140 years ago
More storm. It seems that winter has not yet passed. Yesterday, the hills west of the city were completely obscured by heavy, uninterrupted snowfall. Snow squalls of a Marchy character were the order of the day.
120 years ago
Carson was visited with a rain storm yesterday, which is timely as many farmers have sown their grain fields.
80 years ago
The government announced its intention to settle 10,000 Japanese at the Camp in Idaho.
40 years ago
Britain imposed an information blackout today as troops prepared to strike the Falkland Islands.
20 years ago
State officials planning to put a steel warehouse just south of the Legislative Building in the middle of the Carson City redevelopment district has raised some eyebrows among downtown thrusters.
Trent Dolan is the son of Bill Dolan, who wrote this column for the Nevada Appeal from 1947 until his death in 2006.